The Waste Land by T.S. Eliot
I. The Burial of the Dead
April is the cruellest month, breeding
lilacs out of the dead land, mixing
memory and desire, stirring
dull roots with spring rain.
Fragmentation
"Within T.S. Eliot's "The Waste Land," a modern waste land of crumbled cities is depicted. The poem itself is fragmented, consisting of broken stanzas and sentences that resemble the cultural debris and detritus through which the speaker (modern man) wades."
— Academy of American Poets poets.org

File:Syr.vulg.Charles Joly.jpg From Wikimedia Commons, the free media repository
In this Inanna blog Ilona Martonfi, author of The Snow Kimono and Salt Bride, shares "The Waste Land" by T.S. Eliot. Fragmentation. Du Fu's "Ballad of an Old Cypress". Kintsugi and Mushin. The Ink Dark Moon: Tanka love poems. A prose poem "Lilacs". Magical Thinking. Märchen. She shares a free verse about her mother's attempted suicide "The Necklace" from her new collection. The Tempest forthcoming with Inanna Publications, Spring 2022.
What is a Chinese Ballad?
"A Chinese ballad is a song or poem that tells a story, or (in popular music) a slow love song. 歌谣,民谣;叙事诗;(舒缓的)情歌"
—http://m.qsbdc.com › dict_word ›
Du Fu's "Ballad of an Old Cypress"
April is National Poetry Month, and we're celebrating with a poem by one of ancient China's most famous poets, Du Fu. Written in the wake of great political turmoil in 766, Du Fu's "Ballad of an Old Cypress" both celebrates and laments the aging cypress.
In front of the shrine of Zhu-ge Liang
there was an aging cypress,
its boughs were like green bronze,
its roots were like the stone.
In a beautiful, timeless moment in the poem that joins the present with the past, the chill of the moon opens up a path from Kuizhou (in the Three Gorges area) to the "Mountains of Snow" of Chengdu, the "Brocade Pavilion." And then, again, before the poet's eyes is seemingly the same cypress:
When clouds come, its vapours touch
the full length of Wu Gorges;
as the moon appears, its chill reaches
the white of the Mountains of Snow.

Ballad Of The Old Cypress Poem by Du Fu
https://www.poemhunter.com › Poems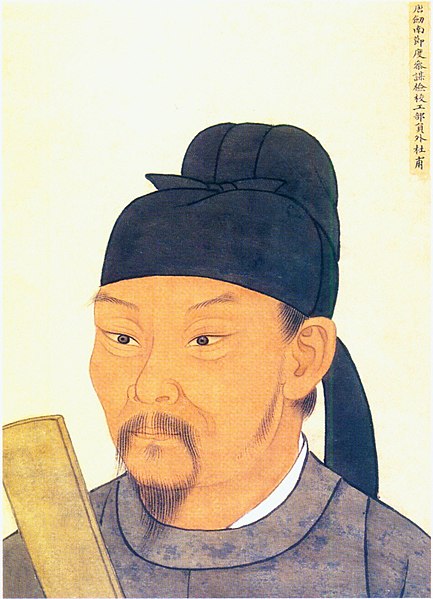 File:Dufu.jpg From Wikimedia Commons, the free media repository
Advance praise for The Tempest
"Words can be weapons, and Ilona Martonfi's The Tempest isn't afraid to wield them with a delicate and certain hand. It is difficult to put into words, the power of her work though I often find myself needing to take a long breath after each poem. The words resonant innate truths through the lens of other, mysterious worlds. And yet they're more than that. Martonfi's poetry reaches out of the page and demands the reader bear witness to the void, the sublime darkness. Deep trauma is interwoven with seemingly small and domestic moments in time and history that speak to the emotional landscape that underlies reality and the essence of the human experience."
—Simone Pitot, singer, multi-instrumentalist and composer
Kintsugi Art of Repair
Kintsugi
Kintsugi (金継ぎ, "golden joinery") is the Japanese art of repairing broken pottery by mending the areas of breakage with lacquer dusted or mixed with powdered gold, silver, or platinum; the method is similar to the maki-e technique. As a philosophy, it treats breakage and repair as part of the history of an object, rather than something to disguise. —Wikipedia
Mushin
"Not only is there no attempt to hide the damage, but the repair is literally illuminated, a kind of physical expression of the spirit of mushin. Mushin is often literally translated as "no mind," but carries connotations of fully existing within the moment, of non-attachment, of equanimity amid changing conditions."
— Christy Bartlett, Flickwerk: The Aesthetics of Mended Japanese Ceramics
Repair work on Mishima ware hakeme-type tea bowl with kintsugi gold lacquer, 16th century. From Wikipedia, the free encyclopedia.
Tanka
Tanka translates as "short song," and is better known in its five-line, 5/7/5/7/7 syllable count form. The tanka employs a turn, known as a pivotal image, which marks the transition from the examination of an image to the examination of the personal response. This turn is located within the third line, connecting the kami-no-ku, or upper poem, with the shimo-no-ku, or lower poem. —Wikipedia
The Ink Dark Moon
The Ink Dark Moon: Love Poems by Ono no Komachi and Izumi Shikibu, Women of the Ancient Court of Japan, translatedby Jane Hirshfield and Mariko Aratani. The tanka speak intimately of their authors' sexual longing, fulfillment and disillusionment.
the dewdrop
on a bamboo leaf
stays longer
than you, who vanish
at dawn
As Jane Hirshfield writes, "I'd like to close with one brief poem I often turn to, a poem of brokenness, permeability, and inclusion. This five-line Japanese tanka, written a thousand years ago, taught me that to be whole requires letting into your life what you might believe you'd prefer to keep out. It showed me that a fully rounded human life means agreeing to everything—hard or embraced—that all lives will bring."
although the wind
blows terribly here
the moonlight also leaks
between the roof planks
of this ruined house
Prose Poem
"Though the name of the form may appear to be a contradiction, the prose poem essentially appears as prose, but reads like poetry. While it lacks the line breaks associated with poetry, the prose poem maintains a poetic quality, often utilizing techniques common to poetry, such as fragmentation, compression, repetition, and rhyme. The prose poem can range in length from a few lines to several pages long, and it may explore a limitless array of styles and subjects." —Wikipedia
Pleased to share a prose poem "Lilacs" page 42 of The Tempest.
LILACS
After they carried doorways, and windows, the
orangery, out under the lilac tree and Pa and Ma
sat there in black wedding clothes; after our
house stood boarded up wrapped in river clay;
after the rain smelled like skin and old photographs
like fescue grasses; after these mute voices, these
moth voices; after the clematis were pruned; after
I sgraffitoed sea-leached acrylics, fearing I would
become invisible; after I saw the wide, dusty moon
crossing Earth's umbral shadow; after everything,
I would take this verse and write sventrare, gut
the bunker kitchen Pa built, the garden, the pool,
the sauna. And you'd ask: Why does Pa beat Ma?
The Tempest – Inanna Publications, Spring 2022
Forthcoming Archives – Inanna Publications
https://www.inanna.ca › forthcoming-titles
Description
Martonfi's The Tempest, does collage but makes deliberate choices when she puts the pieces together. Each item, cut out, becomes one more word, one more symbol. An Impressionistic sketchbook, ekphrastic poems. Erasure poetry, free verse. Prose poetry. Haiku. Tanka. Haibun. What draws the reader to this book of fractured tales is the vividness of the pieces and dedication to brevity. To wed the "political" with the "personal" the pathos of this book is plain. Poems call out and talk back. Expose truths, raise consciousness, one clipping at a time. And the poems emerge and they sing of those times. What she found was that the human soul endures in the poetry. Martonfi's fifth poetry collection, The Tempest, transforms into a water-colourist's terrain. The bricoleur who uses personal resources to gain access to the past and to formulate the present.
Magical Thinking
"Magical thinking is the belief that unrelated events are causally connected despite the absence of any plausible causal link between them, particularly as a result of supernatural effects. Examples include the idea that personal thoughts can influence the external world without acting on them, or that objects must be causally connected if they resemble each other or came in contact with each other in the past." —Wikipedia
Easter Sunday April 13, 1952
And in the kitchen filled with Easter lily blooms, the sun streaming in. In the morning mother braided my hair. Tied bows in my pigtails. To the ten o'clock Mass, I wore a blue flowered cotton dress. White knee socks. Magda's daughter, a girl of ten. The secret I kept from mother, my teacher fondled me.
Easter Sunday, grandmother Mariska baked kalács,a milk bread with zest of orange and plump raisins. Painted Easter eggs, red, blue, and yellow. In the afternoon, we heard father's shouting. A Hungarian war refugee family living in Bavaria.
My childhood traumatized by my mother's attempted suicide with sleeping pills. The year of magical thinking. Not stepping on sidewalk cracks so mother would live.
Märchen
"Fairytale usually set in a magical or otherworldly time and space (i.e. once upon a time.) Tales involving a succession of motifs or episodes. They move in an unreal world without definite locality or definite creatures and are filled with the marvelous."
https://carterhaughschool.com › Blog
My offering a free verse about my mother's attempted suicide, "The Necklace", page 21. A writer bringing to poetry fairytale.
THE NECKLACE
My mother had a red coral necklace,
which I played with as a child.
Red smooth glass.
Oh so berry red.
[…]
One spring long ago, at Easter,
she took sleeping pills.
[…]
That spring long ago, at Easter,
I sat reading
a blue and white fairytale book,
moving the witches from room to room
while my mother stayed in the hospital.
[…]
Magda Kovacs Arad, Romania 1939 family archives photo
Inanna Publications News
The Inanna Spring 2022 Catalogue is online: Please visit my poetry book The Tempest p 11.
Finally, I would like to extend my thanks to Inanna for posting my book description on the Inanna website. https://www.inanna.ca
Author bio
Ilona Martonfi is a Montreal poet born in Budapest. She is a writer, editor, creative writing teacher, and founder of the writing group, Rue Towers Writers. She is the author of the poetry books, Blue Poppy (Coracle Press, 2009), Black Grass (Broken Rules Press, 2012), The Snow Kimono (Inanna Publications, 2015), Salt Bride (Inanna Publications, 2019), as well as seven chapbooks, Visiting the Ridge, Charivari, Magda, Adagio, Mud, Moth and Black Rain. Ilona is Founder and Literary Curator of The Yellow Door and Visual Arts Centre Reading Series and Argo Bookshop's Reading Series. She is a recipient of the QWF 2010 Community Award. Ilona has published extensively in print and online literary publications. She was a Finalist for the 2007 Quebec Writing Competition. Her story, My Daughter, Marisa, was published in CBC Story Anthology III, In Other Words: New English Writing from Quebec (2008), and Ilona's "Stories of Belonging" was shortlisted for Canada Writes in the adult category (2014). She was also a StepAway Magazine nominee for the 2018 Pushcart Prize for the poem Dachau Visit on a Rainy Day.