Review and consider these important new titles for courses that explore current issues in sociology.
Please consider requesting complimentary examination copies of these books for possible use in your upcoming courses, and visit our online academic highlights catalogue and our academic flyers to discover additional titles of interest to Sociology faculty
Inanna Publications and Education Inc. (1978-) is one of only a very few independent feminist presses remaining in Canada. More on our company here: https://www.inanna.ca/
New Titles Spotlight:
Releasing Hope: Stories of Transition from Prison to Community edited by Ruth Elwood Martin, Mo Korchinski, Lynn Fels, and Carl Leggo (November 2019)
Releasing Hope was born out of the first book Arresting Hope, which describes participatory health research and the experience of women incarcerated inside a British Columbian provincial correctional centre from 2005 to 2007. Readers of Arresting Hope, moved by the stories written by incarcerated women, asked, "What happened next?" And, "How are the women doing, now that they are released from prison?" Starting in 2007, women who were released from prison formed a network called Women in2 Healing because they wished to continue participatory health research in the community. Their overarching research question was, "How can we improve the health of women in prison and following their release?" Releasing Hope describes the journeys of formerly incarcerated women and their encounters with the barriers (financial, emotional, familial, systemic) that they confronted during their reintegration in the community. Releasing Hope touches on the stories of individual women and the learning from participatory health research that made visible their lives, their hopes, their dreams and fears.
"Anyone interested in women imprisoned or the value of participatory action research will find this book inspiring. Incarcerated women speak clearly and movingly of the challenges in their lives, and the value of the meaningful opportunities they were given to help themselves and others move beyond addictions, grief, and loss, to reflection, forgiveness, and productive lives. They share with us, the reader, their connection to their families and children and ultimately offer insight into the remarkable sameness we share as human beings and how we find meaning in our lives. Nine-in-ten women in Canada who go to jail do so for less than six months. Anyone reading this book can surely not help but reflect on how meaningful change came about for these women—in the community, engaged with others—actively addressing the problems in their lives. Releasing Hope illustrates the value of giving individuals the opportunity to have control over the determinants of their health and ultimately their lives."
—Shawn Bayes, Executive Director, Elizabeth Fry Society of the Greater Vancouver
Climate Chaos: Ecofeminisms and the Land Question edited by Ana Isla (March 2019)
Climate change deepens ethical issues explored and discussed by ecofeminists around the world. This book describes the academic field of material ecofeminism, provides an overview of the land question, and explores how reigning discourses of "sustainable development" have led to a commodification of nature and have effaced the multiple visions, uses, and relationships of local human communities. The articles in this book are spaces of political projects and values that nurture anticapitalist, antipatriarchal, and anticolonial oppressions.
"At a time when macho politics are intensifying while the basis of survival for most of humanity is being undermined, ecofeminist readings could not be more important in examining the social causes and chaotic consequences of a most pressing and globally destructive process that is capitalism-induced: accelerated climate change. In this edited volume, activist intellectuals from many backgrounds methodically expose the structural intersection of diverse forms of oppression (social as well as beyond) that characterize an always profoundly patriarchal, racist, heteronormative capitalist world disorder that produces the current manifold global predicament. This book provides essential guidance to those who take seriously the need to combine social justice with ecologically constructive existence. It re-introduces and further develops immediately practicable alternatives that ecofeminists have been formulating for decades and, as much as feasible, putting into action."
—Salvatore Engel-Di Mauro, Associate Professor, SUNY New Paltz; Editor, Capitalism Nature Socialism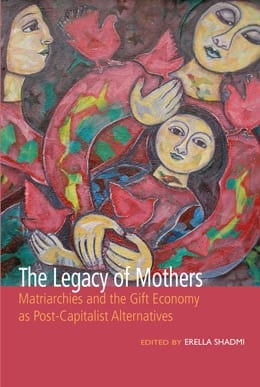 Legacy of Mothers: Matriarchies and the Gift Economy as Post Capitalist Alternatives edited by Erella Shadmi (February 2020)
The many powerful voices of the international contributors to this anthology argue that motherhood may be the foundation of alternative human logic, a new socio-political order, a new value system, and a way of liberating mothers themselves. This book does not present a utopia but a possible road to an alternative evolvement of the world different from the common thinking in the Global North: In lieu of capitalism—the gift economy and the subsistence economy; in lieu of trans-humanism—nature and all her human and non-human inhabitants; in lieu of individualism—community; in lieu of domination—balance and responsibility; in lieu of State—localism; in lieu of monotheism—spirituality; in lieu of equality feminism—transformative feminism. The signs of this development are already seen everywhere: in the New Age, in urban communes, in Occupy movement, in the mothers' movement. Based on critique of the failures of capitalism, the State, enlightenment, patriarchy, and even western feminism, the book's second part presents alternatives coming from outside the patriarchal framework
If you are interested in examination copies of any of our titles for course consideration, please click here.
Inanna Publications titles are peer-reviewed, and widely used in courses in Canada and the United States.
Canadian Distributor: Brunswick Books (include this link: http://brunswickbooks.ca/page/Ordering )
U.S. Distributer: SPD Books (include this link: https://www.spdbooks.org/pages/about/contact-spd.aspx )